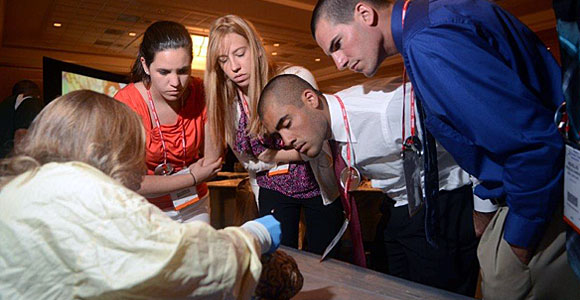 Research Program
The NATA Foundation Research Committee is charged with reviewing grant proposals for funding and recommending to the Board of Directors candidates for Research Awards.  Part of the NATA Foundation Research Committee is the Free Communications Committee.  The mission of the Free Communications Program is to advance the discovery, dissemination, and application of scientific knowledge in athletic training domains through written and oral forum.
Free Communication program abstract submissions are now closed.  When the program is open; the deadline to submit will be November 23, 2018. Authors will be notified in March 2019.
NATA Foundation past President R.T. Floyd, EdD, ATC, CSCS commented "The support of the NATA Foundation through 266 research grants – more than $4 million – has propelled both new and experienced researchers alike to produce new knowledge that is vital to enable health care professionals to provide the best care for their patients."  Additionally almost 5,000 presentations (oral and poster) have been provided through the Free Communications program.
Current Research Priorities
The goals of the NATA Research and Education Foundation include advancing the knowledge base of the athletic training profession and encouraging research among athletic trainers who can contribute to the athletic training knowledge base. By identifying research priorities, the NATA Research and Education Foundation hopes to promote research topics that achieve these goals and provide evidence for the effectiveness of services provided by Certified Athletic Trainers. The Priorities listed below are those that will have the highest potential impact on the profession of Athletic Training. By defining research needs in a diverse field, the NATA Research and Education Foundation expects to maximize efficient and effective use of its financial resources.
The order in which the following research priorities are listed bears no significance to their relative potential to meet the previously stated goals:
The effectiveness and cost-effectiveness of care provided by Athletic Trainers.
Studies documenting the outcomes of techniques used by Athletic Trainers focusing on patient-oriented and quality-of-life outcomes measures.
Prospective, longitudinal studies of the epidemiology of conditions typically managed by Athletic Trainers which will help establish a firm scientific foundation for care provided by Athletic Trainers.
Studies examining the outcomes of various procedures and approaches used in the education of Athletic Trainers.
Studies that elucidate mechanisms that have applicability to Athletic Training that could serve as a foundation for clinical practice.
Sponsor a Research Grant