Dr. Freddie and Mrs. Hilda Pang Fu Master's Research Grant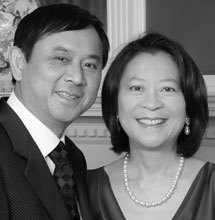 About the Endowment:
The New Investigator Award Endowment (In the name of Dr. Freddie and Mrs. Hilda Pang Fu) provides an annual award of up to $5,000 to be conferred along with the New Investigator Award. This award recognizes a current NATA member who has made and will continue to make significant contributions to the body of knowledge in athletic training and health care of the physically active.
About Dr. Freddie and Mrs. Hilda Pang Fu:
Dr. Fu is a pioneer and authority in sports medicine and recognized as a preeminent leader in orthopaedic surgery and sports medicine across the globe. He has been appointed the David Silver Professor and Chairman of the Department of Orthopaedic Surgery, home to a large, clinical and research department with 80 faculty members and 60 trainees, at the University of Pittsburgh School of Medicine. He has served as President of the Pennsylvania Orthopaedic Society and President of the International Society of Arthroscopy, Knee Surgery and Orthopaedic Sports Medicine, the "United Nations of Sports Medicine." Dr. Fu also serves as the Head Team Physician for the University of Pittsburgh Athletic Department and holds secondary appointments at Pitt as Professor of Mechanical and Material Sciences, Physical Therapy, and Health and Physical Activity. He has received an honorary Doctor of Science degree from Point Park University and an honorary Doctor of Public Service degree from Chatham University in Pittsburgh.
Hilda Pang Fu is a graduate of St. Stephen's Girls' School and Hong Kong University, and holds a Master of Library Science degree from the University of Pittsburgh and a Master of Public Management degree from Carnegie Mellon University. She is founder and president of Luminari, a Pittsburgh-based non-profit formed to broaden minds and inspire innovation. She has served as Director of External Relations of the Health Sciences at the University of Pittsburgh, Executive Director of Summer Programs at Point Park University, founding Director of the Pittsburgh Regional Champions, creator of the Pittsburgh Regional Brag Book and former chairwoman of the board of Women and Girls Foundation of Southwestern Pennsylvania, and founding board member of ToonSeum.
Status:  IN PROGRESS
Commitment:  $100,000
Amount Received:  $32,400
Outstanding Pledges:  $0
Total Needed to Endow:  $67,600
as of 2/5/2018
Individual Donors:
Christina Allen
Matthew Brick (FRACS)
George Caldwell
Steven  Cohen
Dr. Freddie Fu
Laurence Higgins
James D. Kang
Lee and Lisa Kaplan
Jim Goo Kim
Joyce Koh
Hung-Maan Lee
Scott Lephart
John C. L'Insalata
Joseph Myers
Takumi Nakagawa
Jon Sekiya
Mark Silbey
Todd Swenson
Sam Tejwani
John Ticker