Research grant proposal instructions for the general, education, and new investigator grants have been updated.  Please see the tabs below for the updated versions, including the biosketch and budget templates. 
Research Grant Preproposal Submissions are now closed.
Scholarships Submissions are now open.
The deadline to submit is January 18th, 2019. Please visit: applications.nata.org .
Research Grants
Current Research Priorities
The goals of the NATA Research and Education Foundation include advancing the knowledge base of the athletic training profession and encouraging research among athletic trainers who can contribute to the athletic training knowledge base. By identifying research priorities, the NATA Research and Education Foundation hopes to promote research topics that achieve these goals and provide evidence for the effectiveness of services provided by Certified Athletic Trainers. The Priorities listed below are those that will have the highest potential impact on the profession of Athletic Training. By defining research needs in a diverse field, the NATA Research and Education Foundation expects to maximize efficient and effective use of its financial resources.
The order in which the following research priorities are listed bears no significance to their relative potential to meet the previously stated goals:
The effectiveness and cost-effectiveness of care provided by Athletic Trainers.
Studies documenting the outcomes of techniques used by Athletic Trainers focusing on patient-oriented and quality-of-life outcomes measures.
Prospective, longitudinal studies of the epidemiology of conditions typically managed by Athletic Trainers which will help establish a firm scientific foundation for care provided by Athletic Trainers.
Studies examining the outcomes of various procedures and approaches used in the education of Athletic Trainers.
Studies that elucidate mechanisms that have applicability to Athletic Training that could serve as a foundation for clinical practice.
General Grants
Educational Grant
New Investigator Grant
Doctoral Grant
Master's Grant
Scholarships
2019 Scholarship Requirements & Instructions

Slack Inc. DeLoss Brubaker, EdD, ATC, Student Writing Contest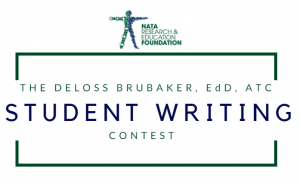 Sponsored By: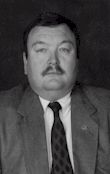 The DeLoss Brubaker, EdD, ATC Student Writing Contest (SWC) was initiated to recognize early research-related projects from emerging investigators at the professional program degree level.
The annual competition includes three categories, with an award being given to the top submission in each*:
Best Original Research Paper ($500)
Case Study ($250)
Best Literature Review ($250)
Deloss Brubaker Student Writing Flowchart 2019
Student Writing Contest Guidelines 2019
SWC Rubric Literature Review
SWC Rubric Original Research
SWC Rubric Case Study
Student Writing Contest Biographical Verification Form
2018
Best Case Study: Sarah Davis, Campbell University
Best Literature Review: Michelle Weddle, Messiah College
Best Original Research: Kayla Boehm, Central Michigan University
2017
Best Case Study: Janet Gonzales, Montclair State University
Best Literature Review: Nicholas Hattrup, California State University, Fullerton
Best Original Research: Hallie D. Sayre, Lynchburg College
2016
Best Case Study: Abigail Diaz; Texas Wesleyan University
Best Literature Review: Kelsey Paramore; Concordia University of Wisconsin
Best Original Research: Lyric Hupp; Arkansas State
2015
Best Case Study: Steven Malvasi, East Strousberg University
Best Literature Review: Colleen Driscoll, Emma Gay, and Christina Kossak, Boston University
Best Original Research: Jonathan Burke, Austin Herman
2014
Best Case Study: Megan Marshall, San Diego State University
Best Literature Review: Joseph Vogler, Rowan University
Best Original Research: Sandra Koen, Kimberly Takaoka, Brittney Kato and Berangere Dwyer, Chapman University.
2013
Deirdre Chatlos
Chyrsten Regelski
2012
Joelle Gage
Caitlin Sweeney
2011
Jun Hashiwaki –Original Research
Drew Garner and Amanda Cutwright
Cody Mansfield
2010
Best Literature Review: Samantha Sabatino, Florida Southern College
1994
Heather Walker
1991
Glendie Washington
1990
Phillip Page
1989
Michael Chisar
1988
Jennifer Carstens
1987
Shane Schulthies
1986
Janelle Thomas
1984
Scott Barker
Andrew Winterstein
1983
Eve Elisabeth Boe
1982
Ron Fischer
1981
David Hammer
1980
Patrick O'Connor
Robert Kersey
1979
Lori Ames Galstead