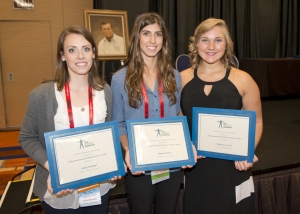 The NATA Foundation Scholarship Program is one of the organization's most highly regarded programs.
"Our scholarship program has awarded more than $3 million to 1,490 students," said NATA Foundation President R.T. Floyd, EdD, ATC, CSCS
Through this program, which is managed by the Scholarship Committee, the NATA Foundation awards undergraduate, master's and doctoral scholarships. The number of scholarships varies annually (from 50 to 75), with the amount of the award currently $2,300 per scholarship. Scholarship funding is secured through a variety of sources, including the organization's endowment program, as well as through corporate and individual support.  Here is some additional information on the Scholarship Program process.
Sponsor a Scholarship
The NATA Foundation is pleased to announce our 2018 Scholarship Recipients and we thank our donors; for without your support, this program would not be a success!
2018 Scholarship Recipients
2017 Scholarship Recipients
2016 Scholarship Recipients
2015 Scholarship Recipients
Past Scholarship Recipients by District