Joe Gieck, EdD, AT Ret, PT Challenge Doctoral Research Endowment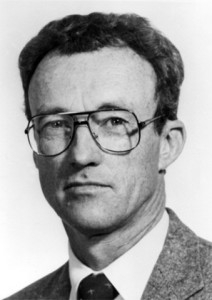 About the Endowment:
The Joe Gieck, EdD, AT Ret, PT Challenge Doctoral Research Endowment, established in 2008, provides a Doctoral research grant of $2,500 to support evidence-based research directed toward clinically significant studies to directly improve athletic health care in the areas of prevention, care, treatment and rehabilitation; to identify and evaluate the most appropriate and best practices of procedures, techniques and products of/for clinical performance/outcomes; and to determine the validity/relevance of the evidence.
About Dr. Gieck:
Joe Gieck was an educator and athletic trainer at the University of Virginia for 43 years before retiring in 2005. He served on the Advisory Board of Physical Therapy for the Commonwealth of Virginia and the Governor's Council for Physical Fitness and Sport, and was Virginia's director of sports medicine from 1998-2004. Dr. Gieck worked with college athletics departments around the country the project APPLE (Athletic Prevention Programming and Leadership Education), the purpose of which was to provide an educational forum for college and university athletic departments and their athletes to evaluate and update their policies and programs in tobacco, alcohol and drug prevention and education. Dr. Gieck received a special commendation award from the National Intercollegiate Administrators Association for his service to high school athletics, and was the NATA 1986 Professional Educator of the Year. The University of Virginia has endowed a scholarship and a teaching position in his name. He was inducted into the NATA Hall of Fame in 1990.
Research Grant Recipients:
2017 – Alicia Pike, MS, ATC "Organizational Culture's Effect on Injury Treatment Decision Making"
2016 – Kyle Kosik MEd, ATC "Chronic Ankle Instability & Aging"
2015 – Timothy C. Mauntel, MA, ATC, LAT, University of North Carolina at Chapel Hill  "The Influence of Biomechanics on Biomarkers of Skeletal Stress During Army Cadet Basic Training"
2014 – Hsin-Min Wang, MS, University of North Carolina at Greensboro
2013 – Lindsey K. Lepley, MEd, ATC, University of Michigan
Status:  ENDOWED
Commitment:  $50,000
Amount Received:  $50,000
Individual Donors:
Turner "Tab" Blackburn
Bart & Penny Buxton
Steven Cole
Craig Denegar
Bernie DePalma
Carrie Docherty
Jennifer Earl
Lance Fujiwara
Dr. Joe and Sally Gieck
Lance A. Gill
Jayd Grossman
Esther Haskvitz
Jay Hertel
Thomas Kaminski
Jeff Konin
John Nyland
William Prentice
William S. Quillen
William Romani
Randy Schmitz
Robert Shank
Brady & Pattie Tripp
Michael Voight
C. Steven Yates
Steve Zinder
Donor Organizations:
Titleist
Virginia Athletic Trainers' Association