Edward J. Pillings Endowment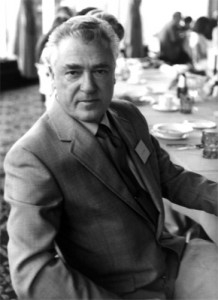 About the Endowment: The Edward J. Pillings Endowment was established by Laurie Pillings Rinker and Carol A. Pillings to honor their father Ed who, thanks to the kindness and assistance of a few key people, was able to rise to a position where he could give back. Laurie and Carol have continued this legacy of giving with the Edward J. Pillings Endowment which provides a research grant of $1,000 to a master's level student. When the balance of this fund reaches $ 50,000, an endowed scholarship will be created that will provide an annual award of $2,300 to a qualified athletic training student.
About Mr. Pillings: Edward J. Pillings, AT Retired, truly loved the athletes and athletic trainers he mentored. Many of them made the pilgrimage to West Point for his funeral and memorial service. It was Mr. Pilling's desire to create an endowment so that he could give back to the young people he enjoyed. Wilbur Bohm introduced Mr. Pillings to the athletic training profession, and Pinky Newell, another NATA Hall of Fame member, inspired his interest in athletic training. Mr. Pillings finished two undergraduate degrees at Washington State University (B.S.'s in Physical Education and Education). He went on to earn a master's degree in Education from Columbia University. His first job was head athletic trainer at Eastern Washington College, where he also taught kinesiology, anatomy and other courses. He then spent four years as head athletic trainer and instructor at the University of New Mexico. At the urging of legendary Army football coach Earl Blaik, Mr. Pillings joined the staff at the U.S. Military Academy in 1957. He served as the head athletic trainer at Army for 24 years, where he dedicated himself to the cadets and student athletes both on a personal and professional level. Mr. Pillings also served as an athletic trainer for the Pan-American Games and the 1980 Winter Olympics. Mr. Pillings loved the West Point experience, he mentored and counseled many young men and had over sixty military intern athletic trainers come through this program.  Many of these men have gone on to become athletic training leaders. Mr. Pillings was inducted into the NATA Hall of Fame in 1980.
Research Grant Recipients:
2017          not awarded
2016          not awarded
2015          Alyssa Stirling, BS – Appalachian State University
2014          Robert Kunisch, ATC – University of Toledo
2013          Eric Hunter, BS & Caitlyn Crowley, BS – Weber State University
2012          Laura Young, ATC – University of Toledo
Status: IN PROGRESS
Commitment: $50,000
Amount Received: $39,193.55
Outstanding Pledges: $0
Needed to Endow: $10,806.45
Individual Donors:
Katherine & Jeffrey Alitz
Robert Arciero
Stephen E. Bair
John Baxter
Scott Beaty
Roberta & John Butler
Richard G. Cardillo
Steve Condon
Chuck & Mary D'Amico
Gale Daugherty
Alzia & Michael Dean
Leonard Deranleau
Phillip Donley
Sally, Jeff, Sue & Carl Evans
Kent Falb
John Feagin
Larry & Carol Gardner
Joe Gieck
Sandy & Jodie Glore
Lee Grasfeder
Jack Hecker
Peggy & Michael Hegewald
Maurice & Elizabeth Hilliard
Marilyn & William Hyncik
Mary & John Johnson
Tim Kelly
Carl Krein
Mike Krzyzewski
Dale Mildenberger
Richard Milder
John Montanaro
Beverly & Robert Portante
Bene & Don Prentice
Christine & Matthew Reese
Laurie Pillings Rinker
John Simar
John Streif
Robert Vanderbush
Tom Wheelock
Timothy Young
Bernie Ziegler
Donor Organizations
NATA District Two
New York State Athletic Trainers' Association